Create customer loyalty with online branding which reflects the personality of your restaurant.
Restaurant marketing is changing. With the ever-increasing popularity of websites like Yelp, Foursquare and TripAdvisor, it has never been more important to establish and cultivate an online presence.
Put yourself in your customer's shoes. Now search for your restaurant online. Do you come up in the first page of results? Will customers recognise your restaurant's brand? Can they get reliable and up-to-date reviews and copies of your menus? The answer to all of these questions needs to be yes.
Cultivate your online branding, generate loyalty
Creating a pervasive online presence means more than just using online ordering platforms. As FOODit founder, Rif Kiamil, said in an interview with bighospitality.co.uk, "platforms don't let you stand out individually...you're just a tiny icon with a little description and nothing about personality stands out". And it is that personality which makes you memorable and attractive to prospective customers.
Enhance your website visibility to increase your audience
The first step towards creating an effective online presence is a great, search-engine optimised website. Make your restaurant the first choice by appearing at the top of the search results. A great description also helps, as customers can see at a glance if your restaurant offers what they are after.
Another easy way to do this is by using enticing but real pictures of your food and interior decor. As well as this, you should use this opportunity to advertise offers, keep your menu up-to-date and link to your social media, making your online presence both useful and interesting.
Unlike most other online ordering platforms, your own restaurant website can collect and analyze how customers use the site. From identifying repeat customers to documenting their interaction with menus and special offers, a website can give you far more insight into your customers behaviour. As Rif says, "if you can track [your online customers], you will know how many you have and which ones are ordering from you...[so] you're in a much more stable place".
Put this information to use by creating targeted loyalty rewards and incentives. Much like those you might already use offline, offers which reward repeat customers keep your restaurant in the minds of hungry diners. Schemes which offer your potential customers a free item after 10 purchases or over a certain spend, promote habit forming behaviour which ultimately translates to more sales.
FOODit customisable website builder is offering all of these features and more, meaning you can create a free, search-engine optimised website for your restaurant today.
Be where your customers are
Social media is the easiest way to inject personality into your online branding and increase interaction outside of the restaurant. If you are always chatting to customers, asking for feedback and building up a rapport with them then, chances are, you are already great at this!
Below an example of one of the most active customers: Golden Cod in Doncaster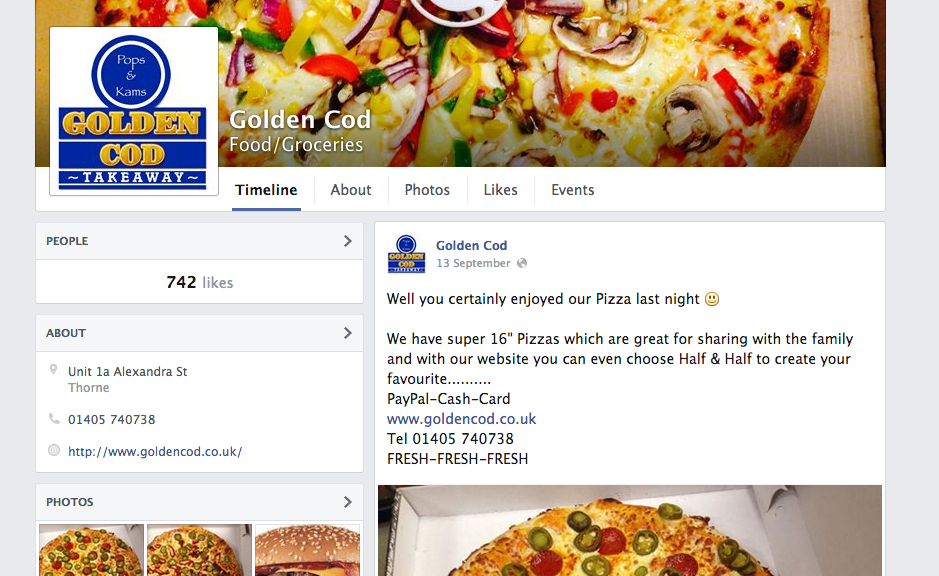 From tongue-in-cheek Twitter accounts like Mangal 2 to more traditional approaches like Hawksmoor Grill, the key to effective online media is creating a conversation with your customers. Always reply to comments, thanking commenters for taking the time to connect with you and make them feel appreciated.
Interspersing your posts with more light-hearted content like pictures of your staff having fun or witty jokes makes your restaurant and its staff seem more approachable and fun, encouraging people to retweet and engage with your writing. Remember, it doesn't all have to be about your special offers and products.
Double check your online reputation
Monitoring your online reviews and addressing any problems as they arise is another valuable way of staying in touch with your customers. With the ever increasing popularity of review sites like Yelp and TripAdvisor, more and more customers are turning to the experience of their fellow diners to make a decision about where to eat.
This provides both invaluable insight into your customers dining experience and the opportunity to respond if things don't got to plan.
Paying close attention to what people love about your restaurant, thanking them for their feedback and acting on their suggestions, makes your customers feel valued and foster a sense of customer loyalty (for more on this, read our post "What's Catnip for your Customers"). Equally knowing when your customers are less satisfied is important. By addressing their concerns and respectfully resolving their problems, customers are more likely to give you another try when something goes wrong.
No matter what you do....
From creating a personalised website that allows you to act on analytics, to maintaining social media accounts where you can monitor reviews, there is huge scope for making your business more visible online. By using a range of platforms, you can increase your customer base, generate loyalty and ultimately boost sales.
So, it's your turn now; tell us about the ways you interact with customers online.
Which platforms do you use to promote yourself online? How did you find your brand personality? Have you learnt anything about your restaurant from review sites?