With the taste of free samples still fresh in our mouths and enough complimentary pens to stock the office for a year, the FOODit team have returned from the Takeaway Innovation Expo.
Now in its second year, the Expo is quickly becoming an essential date for those in the takeaway and restaurant industry. With an enormous selection of stalls ranging from online ordering systems to catering ovens, exhibitors were offering a myriad of ingenious solutions to the problems faced by restaurateurs today. Building on the success of last year the Expo was even bigger and busier, and so was our stand. So in the spirit of innovation, here is what we learnt at this years Takeaway Innovation Expo.
Beyond sales; listening and learning for inspiration
From the moment that the doors opened to the public, the air was buzzing with the sounds of sales. Goodie bags full of special offers changed hands and the enticing scent of roasting spices wafted over from the cooking demonstrations, engulfing our stall in a distractingly delicious smell.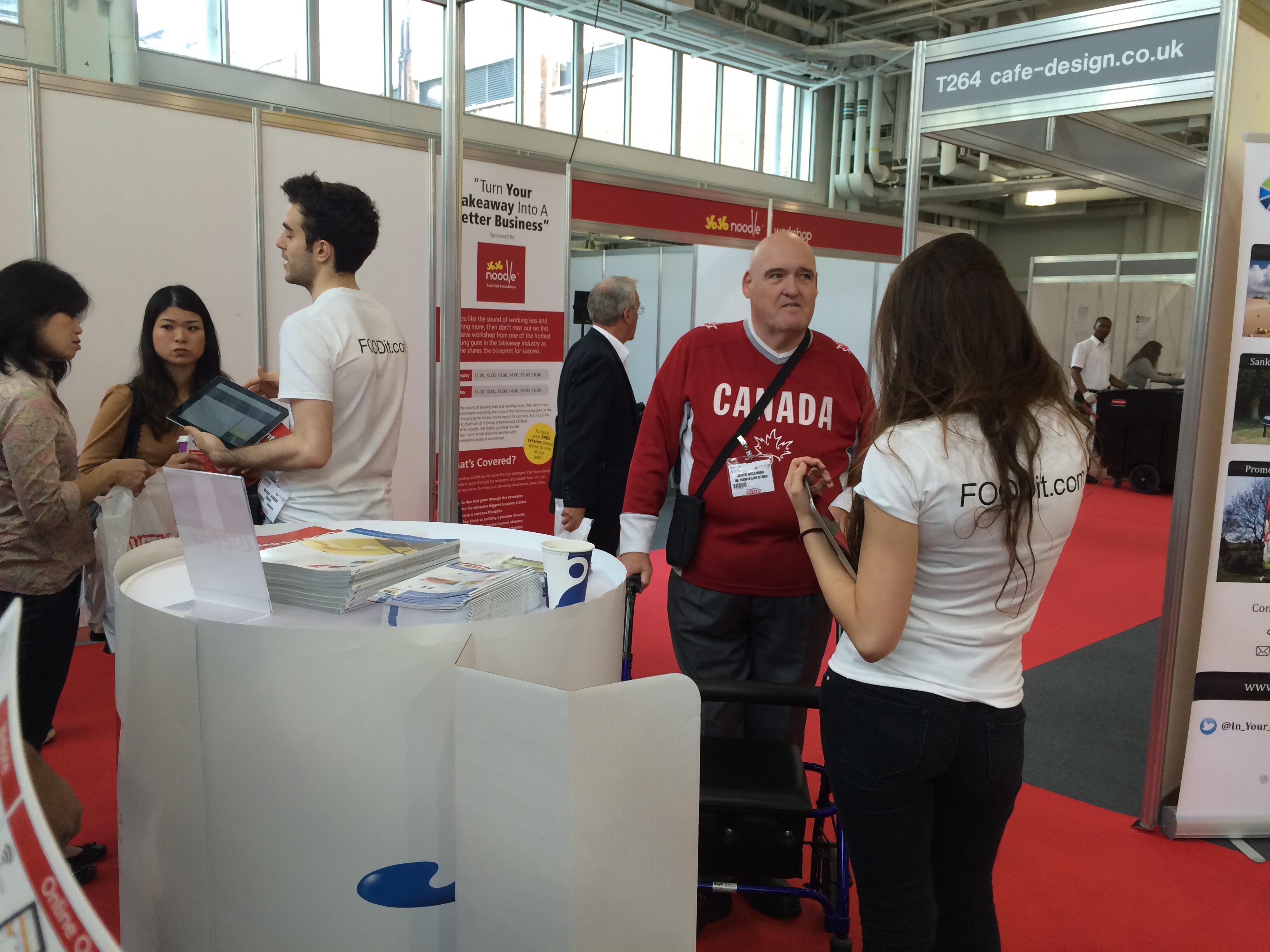 Naturally the Expo was sales orientated, however, we were surprised to find that our conversations with customers were remarkably personal. In fact, this atmosphere of intimacy provided the perfect place to get some great, unbiased feedback about our product.
Restaurateurs told us of their online ordering platform woes, many of which were unanticipated by the team. In response, we soon learnt to move away from our prescribed spiel, instead focusing how our product meets their needs in other ways.
Arguably this was the most valuable part of the whole experience; in questioning the limitations of our product, restaurateurs confirmed that FOODit is tackling the right problems. In depth queries about commission, how we differ from our competitors and getting to the top of search engine results were order of the day. I think I speak for everyone at FOODit when I say that in those two days, I learnt more about the intricacies of our website than in a month of work at the office.
Collaboration for innovation
This new-found understanding of our product was consolidated by feedback and suggestions from others exhibiting at the show. Although it was easy to assess the competition, the opportunity to embrace new relationships and collaborations was undoubtedly more beneficial.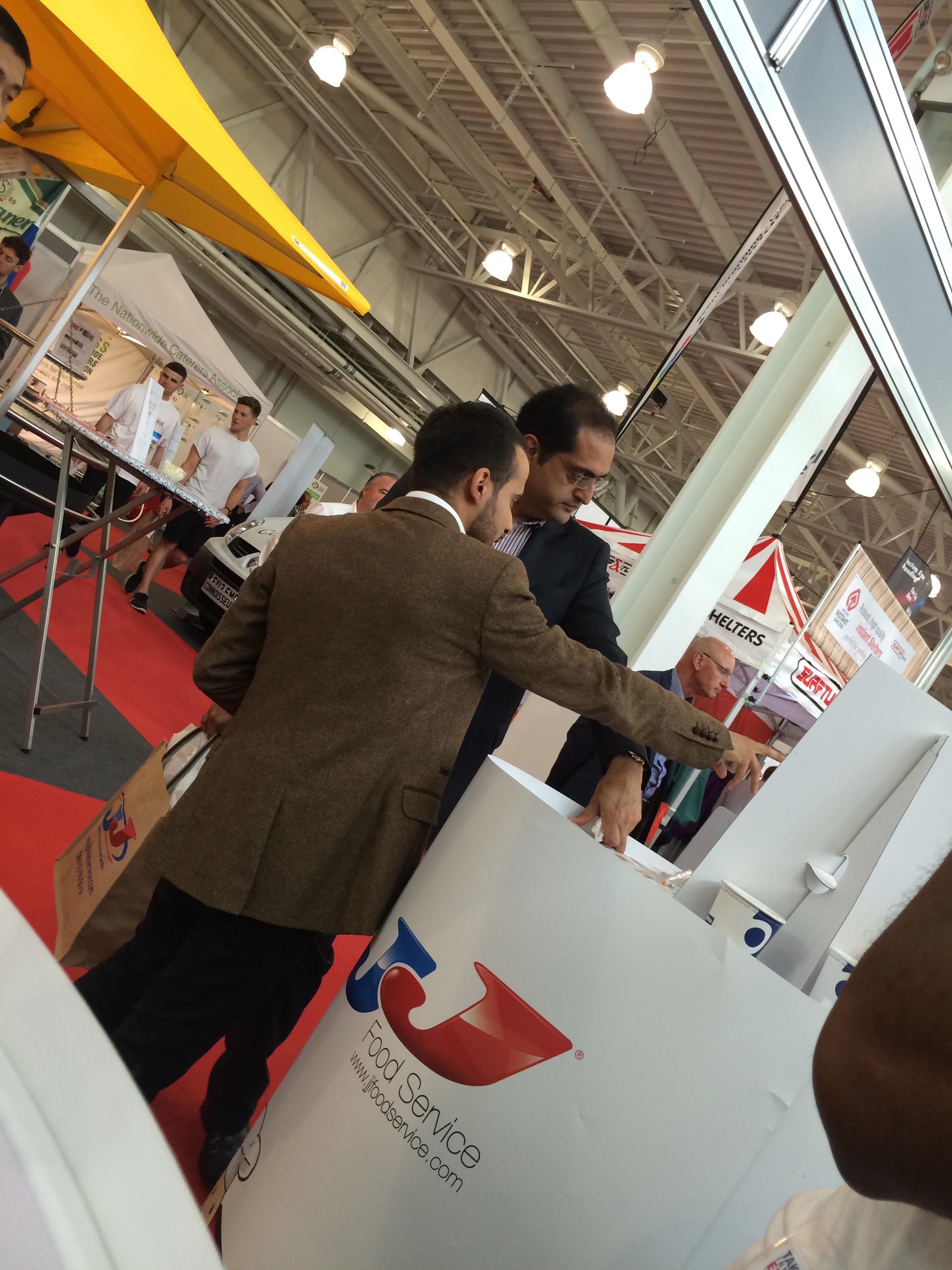 Whilst a company that dealt with allergens was not competition, their products offer the exciting potential for integration into our own platform. As we move towards changes in how we display allergy information in the UK, restaurateurs will need to let customers know exactly what is in their food. Combining their existing data with our own could be mutually beneficial and certainly made for an interesting exchange of ideas.
Tips and tricks from guest speakers
Indeed, this exchange of ideas was a theme throughout the Expo. With a varied selection of talks throughout the day, the seminars offered a welcome respite from the bustle of the main exhibition. A lively discussion panel about the merits of franchising fueled debate amongst exhibitors and attendees alike, whilst the whoops from some particularly motivational speeches kept the atmosphere excitable and fun.
Around lunchtime most of the FOODit staff, along with a sizable number of attendees, migrated to one of those seminar halls to watch a speech given by our CEO, Rif Kiamil. Full of tips to help improve a restaurants online presence, the talk focused on attracting new customers to a restaurant website, getting it to the top of search engine results and building online customer loyalty. It was standing room only, so if you missed the presentation at the Expo then a recording will be up in a few days but in the meantime, you can look at the slides here.
Seeing people first, customers second
The Expo was buzzing right up until doors closed to the public. After two days of talking to restaurateurs, making new business contacts and gaining valuable insight into both our customers and our product, we were exhausted and inspired in equal measure.
We packed up and headed out to eat too much pizza in the Olympia car park. The fresh air was a welcome change, but we already missed the interaction, conversation, and general experience of the Expo. And thats what it boiled down to really: the people. It can be all too easy to see every person as a potential customer, but if you can go beyond that and build a relationship, you might learn something from them too.