Know your best assets and brand the hell out of them.
Whenever restaurateurs ask for advice in marketing themselves, the first thing I ask them is what their best dishes are. Their answers run the gamut from a clear list to a muddling exposition of their entire menu. In general, far too few restaurant owners seem to know their best assets and even fewer do a good job of marketing to them.
Assessing your dishes isn't actually that difficult. Most owners I know have tried every dish in the restaurant many times. They know which ones get ordered frequently and probably which ones rack up top reviews online. They overhear customer's raving about certain dishes, or maybe even ask them for their thoughts directly.
Picking Your Three Dishes
The trick is being organized and deliberate. I advise every owner to figure out what three dishes set them apart in their area. You'll likely have many dishes that customers love, but when it comes to marketing, focus is everything. Being able to focus on your three most unique dishes is critical in making your restaurant into a brand and capitalizing on online search.
The first step is to identify what your area is. If your restaurant is in a small town or smaller city, it might be the entire metro area. If you're based in London, you'll want to get more specific to your neighborhood, unless you're based right in the city center.
Next, you'll need to look at all your best dishes and see which superlatives you can own (what of yours is the "best", "spiciest", "cheapest", "healthiest", etc.) in your area.
"Best" can work, but it can be weakened by overuse. For example, how many chip shops in London claim to have the best fish and chips in their neighborhood? It doesn't quite set you apart, but if you can be specific, it can work. For example, positioning your restaurant as the "best Indian food in London" might be too broad, but saying you have the "best Dosas in North London" gives you a specific piece of territory you can build your brand around.
The real key is finding the unique feature that sets your dish apart from all others in your local area. Maybe you have the "spiciest wings in Islington." Or perhaps you have the "most affordable sushi in Birmingham." You might be serving up the "only all-organic burger in Surrey." Or you just might have the "best steak sandwich in Glasgow."
What do all those phrases have in common? They're all the kind of thing that customers search for online. Customers are typically looking for a specific dish in a specific location and if you aren't positioning your best dishes in that way, you might as well be hiding from their searches and turning away their business.
I'm a big fan of one local London eatery, Tayyabs, which serves mouthwatering lambchops. Some time ago they realized that people knew them for their exceptionally large lambchops (which if you've ever tried them, you'd understand why). So they started building their web presence around their exceptionally large lamb chops. Today? They show up as a top search result for "largest lamb chops in London" and that brand has trickled down to review sites so that even Trip Advisor reviews show up at the top.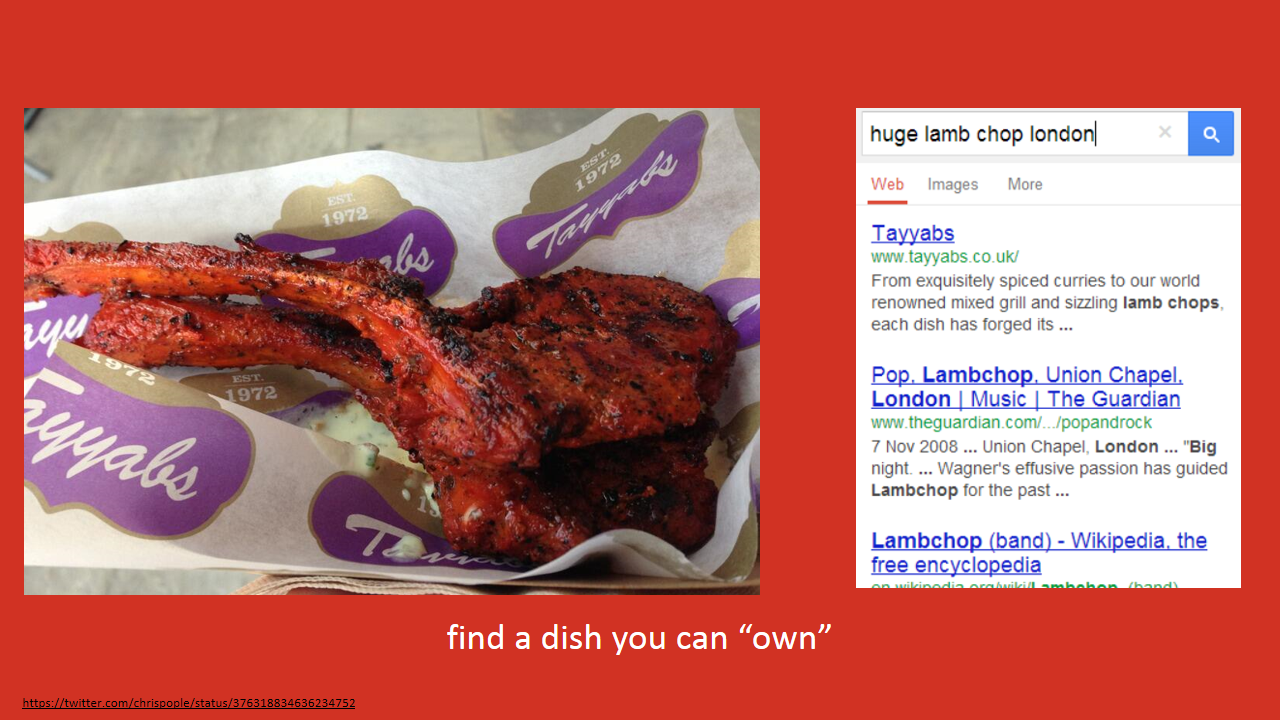 If all else fails, and you're struggling to come up with three dishes that set you apart, try something new. Innovate a new dish that will set you apart and perfect it until your customers love it.
Lastly, you'll want to test out your potential top three dish brands by conducting simple Google searches. This will tell you if other restaurants already "own" the dishes and positioning you're considering, and help you see if you already have a strong advantage in any areas.
Marketing Your Three Dishes
Once you know your top three dishes and what sets them apart for your area, the rest is restaurant marketing 101. You'll want to feature content on your website around those dishes. That can mean taking photos for Instagram and Twitter or using the key phrases repeatedly where appropriate (though it's important to not do this in a ham-handed way).
Then try to find avenues for re-enforcing those dish brands with your customers. Make them prominent on your menu and find a way to communicate to customers that these are the dishes you're famous for (it could be an icon on the menu or a special section). Once customers buy in on your top dishes, online reviews and word-of-mouth will follow suit.
Over time, you'll find that you come to "own" those search phrases so that potential new customers are finding your website and your reviews long before they ever see those of your competitors.
Summary:
Identify your area (e.g. "Enfield Lock")

Identify the three dishes that set you apart in your area (e.g. "biggest chicken shish in Enfield Lock")

Test your hypothesis (e.g. search Google variations on "biggest chicken shish in Enfield Lock", "best chicken shish in Enfield Lock", ""tasty chicken shish in Enfield Lock")

Build a brand around each of your three dishes